Producer: Jing Zou (Presendent-elect, KCCAA)
Director: Junyi Nie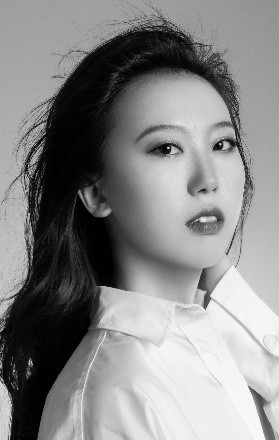 Chinese pianist Junyi Nie is currently a candidate for a Doctor of Musical Arts Degree at the University of Missouri-Kansas City Conservatory, studying with Alon Goldstein as a scholarship and doctoral teaching fellowship recipient.
During the 2022-2023 season, as the 2021 Concerto/Aria competition winner, Junyi performed with the UMKC Conservatory Orchestra in James C. Olson Performing Arts Center White Recital Hall in March. In August, Junyi participated in Tel-Hai Piano Masterclass in Israel and performed in the concert, Remembering Marina Bondarenko. In September, Junyi performed at the International Mendelssohn Festival in Hamburg, Germany. Other performances include the Brahms Festival and the Haydn Piano Sonatas Marathon in Kansas City.
In this upcoming season, Junyi is invited to be the director of the 2023 Chinese New Year gala in January, organized by the Kansas City Chinese American Association at Midwest Trust Center Yardley Hall. In February, Junyi will be the guest musician playing concerts at the 2023 Emerald Coast Music Alliance in Florida. Under the support of the UMKC Conservatory Alumni Fund, Junyi will go to Italy to hold a concert series of Chinese Art Songs collaborating with Chinese Sporano Ziyu Liang. In April, Junyi will perform in Bartok reimagined concert, where she also serves as the assistant director.
The highlight of the 2021 season includes performances at the Abbey Bach Festival in Oregon, Emerald Coast Music Alliance in Florida, a solo recital at the Chapel Garden Spot Village, Pennsylvania, the 2021 KCCAA Chinese New Year Gala, and several concert series, including in Beethoven Complete Piano Sonatas, Ravel Reimagined, and Mozart Piano Concertos Celebration in Kansas City.
Junyi is also passionate about music education. She was an instructor at Boston University, where she taught group piano and aural skills. Currently, Junyi is teaching group piano and applied piano lessons at UMKC Conservatory and is a faculty member at UMKC Conservatory Academy. In August 2021, Junyi was invited to give a piano pedagogy lecture at the Conero International Music Festival in Kansas. In addition, Junyi is a producer of musical educational videos, promoting classical music through Youtube Channel Dr. Cat Music and writing articles on Wechat official account.
Junyi holds a Bachelor of Music Degree from Wuhan Conservatory of Music and a Master of Music Degree from Boston University.
Production Director: Chunyan Qiu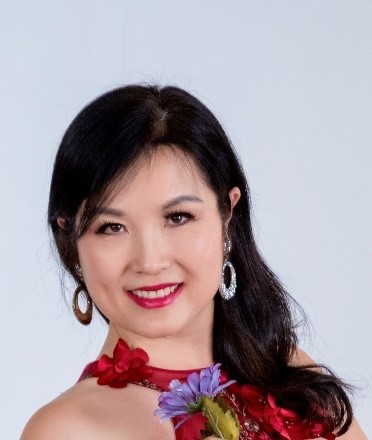 Chunyan is the vice president of KCCAA and the director of the Chinese new year gala from 2017 to 2022. She is also a dancer and singer who will perform this year. Since moving to KC 15 years ago, Chunyan has been participating in various activities by the organization. Being the director requires tremendous commitment, but she feels happy and meaningful about being able to celebrate the new year with the community.
Lighting designer: Zoe M. Spangler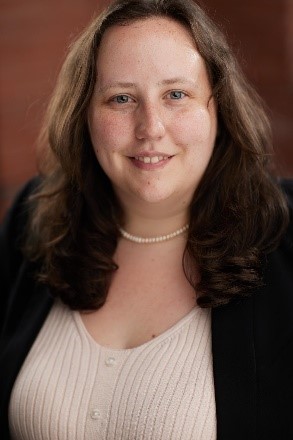 Zoe M. Spangler (she/her) is a Kansas City, MO based lighting and projections designer. She recently completed her Master of Fine Arts in Theatre Lighting Design and Technology at University of Missouri-Kansas City and now freelance designs for theatre, music, and circus events across the metro. Recent designs include Holiday Circus ADVENTure (Kansas City Aerial Arts), Our True Colors (Cardinalis), and William Shakespeare's As You Like It (Johnson County Community College). Her full lighting design portfolio can be found online at zmspangler.com. Enjoy the show and happy new year!
Sound Designer: Paul Vedros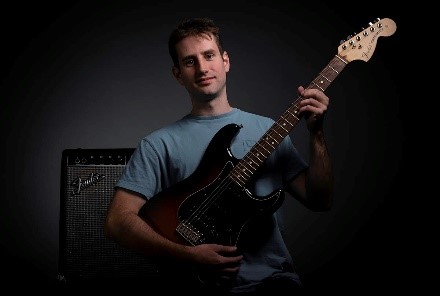 Paul is a first year MFA- Sound Design student at UMKC. Originally from Kansas City, he designs sound, composes and plays guitar for various theatrical productions.

His love for music started in his toddler days but his journey as a musician officially began on his eleventh birthday with the gift of his first guitar, a junior-sized Fender Precision bass. He enjoys playing a wide variety of musical styles such as rock, blues, jazz, R&B, heavy metal, folk and classical.
Audio Editor: Wei Dai
Wei Dai is a composer, performer, and educator who is currently pursuing a DMA in Music Composition at UMKC under the guidance of Chen Yi. He completed his MAs in both violin performance and composition at Montclair State University, working with Shanghai Quartet, Marcos Balter, Nathan Davis, and Nate May. He is currently working as a teaching assistant at UMKC, having instructed courses such as Digital Media for Composing and Improvisational Music/Media Performance Ensemble. He was awarded the first prize in the 2021 UMKC Chamber Composition Competition. His B.Mus. is at the Shanghai Conservatory of music.
Dance director: Ella Shan
Ella is a passionate dancer, performer and instructor. Her deep love of dance passes to students of all ages through her dance classes. Her Chinese heritage and cultural background bring profound influence on dances she has taught and choreographed. As a performer, Ella has been taking the leading role for the past fourteenth years in culture related dance performances in KC, performing at venues including the Kauffman Center for the Performing Arts and JCCC Carlsen Center Yardley Hall, etc. As an instructor, Ella has been teaching for the past ten years.
Host: Alex (Fei) Che
Mr. Che served as the president of KCCAA from 2018 to 2022. He is a Project Manager at Black & Veatch with many years of experience on various energy projects around the globe. Alex enjoys spending time with family, reading, traveling, and coaching kid's sports.
Host: Kevin (Kaiyuan) Wu
Kevin has been spreading Chinese culture with his music since 2012. His earliest musical inspiration came from his grandfather, a professor of ethnology from China who was also a musician. At nine, he started learning traditional Chinese musical instruments, including Erhu*, Bamboo flute, Hulusi, and Xiao.
The highlight of past performances includes the Nelson-Atkins Museum of Art Lunar New Year Celebration, Kansas City Crossroads Music Festival 2021, Downtown KCK Third Friday Art Walk, the University of Kansas Mid-Autumn Festival Gala Show, Emporia Downtown Main Street Art Walk, and 2021 Chinese Lunar New Year Gala organized by Kansas City Chinses American Association. The audience said that Kevin's music instantly brought them back to ancient China and let them have a close encounter with the charming traditional instruments from the East.
Kevin holds an MBA from the University of Missouri – Kansas City H.R Bloch School of Management, focusing on International Business and Communication. Kevin is a connections manager at VMLY&R, owned by the WPP group. Kevin and his wife, Junyi Nie, a pianist, actively engage in music education and cultural communication activities.
Host: Monica (Yazheng) Zhang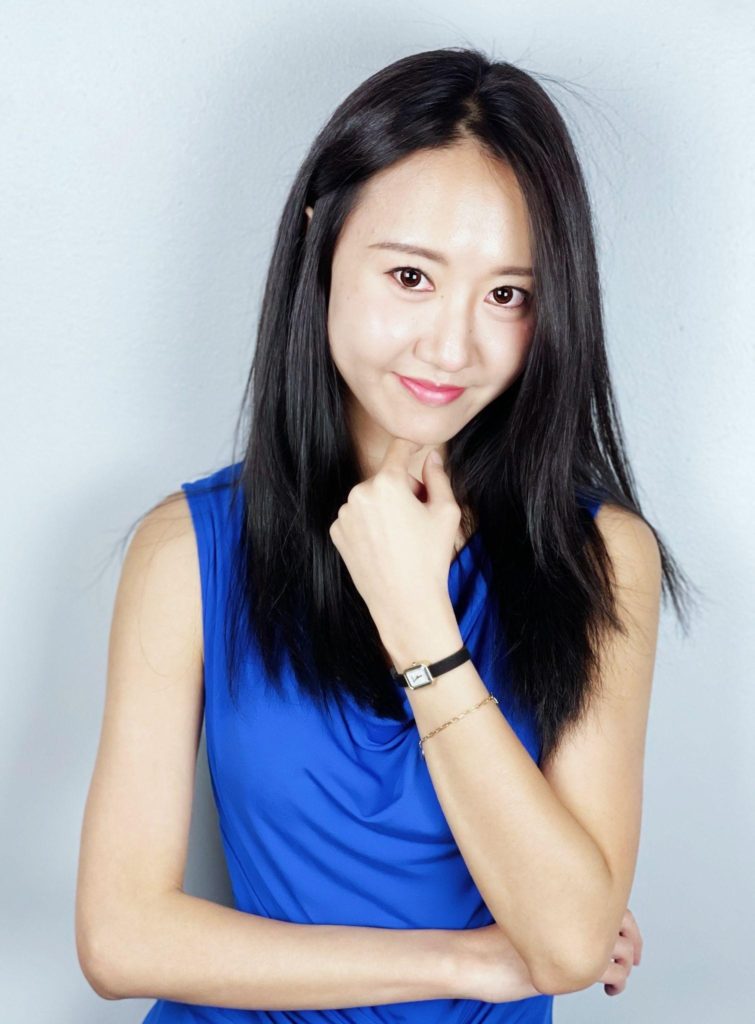 Monica is the founder/C.E.O. at Central Group Mortgage, L.L.C. She's also a full time servant leader of Weekend Wine Taster, and Board Member of KCCAA
Host: Min Xu Bachar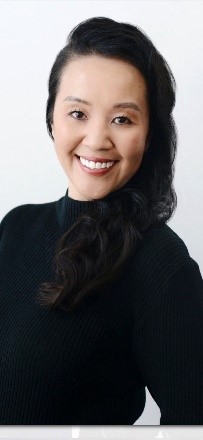 Continuing with Min's hobby at high school & college as a leader for the school broadcasting station, & drama club, Min has been hosting KCCAA Chinese New Year Gala performances for seven years. She was also involved in singing & dancing with a performing art group.
Min holds an MBA from Emporia State University & has been working at Kansas Gas Services as a senior accountant for over 20 years. Min enjoys spending time with her family, traveling, exercising & delicious food.
Performers
Jasmine Chinese Dance Group
Founded in January 2008, Jasmine Chinese Dance Group is a non-profit organization whose mission is to share Chinese culture through dance performances and build friendship through community service. We are located in Overland Park, Kansas. With the generous support of our sponsors and in partnership with local organizations, Jasmine has grown rapidly and is making an impression in the local community.
The Jasmine flower symbolizes women and femininity in Chinese culture, and in particular, gratitude, beauty, and kindness. In kind, Jasmine dancers express grace, beauty and elegance through eye-catching performances and service to the community.
Jasmine Chinese Dance Group offers adult and youth classes.
UMKC Conservatory
On the University of Missouri's designated performing arts campus, the UMKC Conservatory is an educational community that advances creativity, performance, scholarship and learning in the arts. We are a vital partner in Kansas City's rich cultural environment, providing the highest level of professional instruction and an extensive array of performances. As a community, we collaborate to balance tradition and innovation with diversity and unity, as we seek to serve art and humanity. Excellence, Access and Innovation are guiding principles at the UMKC Conservatory.
Born in Shenyang, China, Yuefeng Liu began her piano studies at the age of five. She continued her studies at the Shenyang Conservatory of Music with Minghui Lee and Quming Zhang. During this time, she was a prizewinner in competitions in Hong Kong, Shanghai, Beijing, Tianjin, Shenyang, and the St. Andrews in Canada. Yuefeng is currently a second year doctoral student in piano performance at UMKC where she studies with Dr. Thomas Rosenkranz. In 2017 summer, she was invited to have a recital in Shenyang Conservatory of music in China. In February of 2018, she won the Conrad Art Song Competition. In October 2020, she got the Second Prize in the OH MTNA Young Artist Piano Performance Competition. In March of 2021, she got Third Prize in the OH Grave Piano Competition. In November of 2021, she got the First Prize in the Missouri MTNA Young Artist Piano Performance Competition. In July 2022, She got the Third Prize in the IPPA Conero International Piano Competition.
Yingting Qin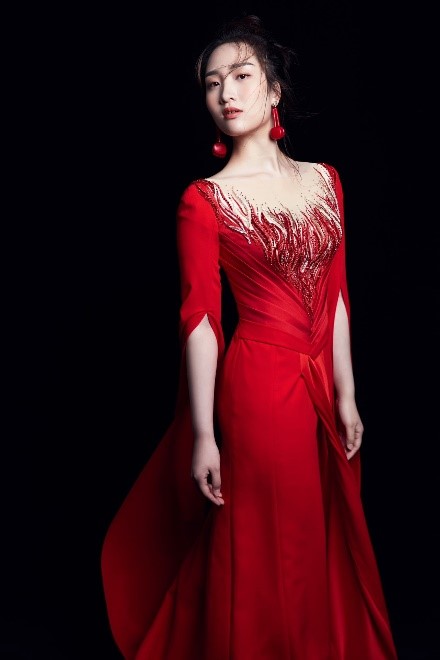 Chinese soprano Yingting Qin is a doctor student of UMKC conservatory. She got her master's degree from Temple University, and completed her bachelor's degree at China Conservatory of Music. She was a recipient of 2020 State Government Special Award and Second Place Winner (College Students and Professional Musicians Category) of the American Protégé International Concerto Competition.
Kwan Leung Ling
Kwan Leung is a composer and performer born and raised in Hong Kong. His instrument is suona, a traditional Chinese double reed instrument. His musical style is influenced by his national identity and upbringing in Hong Kong; a city bursting with international life and color. His music concerns itself with finding ways to fuse the sounds of different cultures and search for the connection between those sounds. Collaboration is one of the most important portions of his artistic journey. Ling has collaborated with the Hong Kong Philharmonic Orchestra, Hong Kong Chinese Orchestra, SPLICE Ensemble, Trio Mythos, Duo Entre-Nous and UMKC Graduate Fellowship String Quartet. In
2012, Ling performed in A Sedan Chair for the Bride The Wonderful Winds of Guo Yazhi concert. Ling had performed as a Suona, Guanzi and Clarinet player in Portraits of America – Scottsdale Concert Band (2015), Cat's Cradle (2016)、 Calarts Ok Composer Concert (2017)、 Calarts Sonic Boom (2017)、Vinny Golia Large Ensemble (2017)、Beirut Orchestra Music Video (2017), SPICE Ensemble X UMKC Composers' Guild (2022), Charlotte Street Foundation (2022) in the United State from 2015 to 2022. Moreover, Ling has been collaborating with artists from outside the field of music. These collaborations include a documentary film with Filipino/Singaporian filmmaker – Brian Yulo Ng, the collaboration – 24 has been nominated and screened in 17 film festivals from 2019 to 2022. Ling's suona and fixed media piece – Midden has been selected in the New York City New Electroacoustic Music Festival 2022. In 2022, Ling has commissioned ten composers to compose new pieces for suona and western instruments, Ling has held a week-long event about the evolution and use of modern suona. Ling and Guo Yazhi premiered and read ten new pieces in the week-long event. In the summer of 2022, Ling performed a piece for five ancient Chinese instruments and Orchestra, composed by Tan Dun, as a bili and suona soloist, with the Hong Kong Philharmonic Orchestra, under the baton of Tan Dun himself.
Ling is extremely passionate about receiving new ideas and inspiration through different artistic forms. He has participated in the Highscore festival where he attended master classes held by such distinguished composers as; Helmut Lachenmann, Christopher Theofanidis, Toivo Tulev, Dmitri Tymoczko, Amy Beth Kirsten, and Sarah Kirkland Snider.
Ling started learning the suona under the tutelage of the former Suona Principal Hong Kong Chinese Orchestra, Guo Yazhi. Ling also attended the Junior Music Programme at The Hong Kong Academy for Performing Arts, where he majored in suona under Guo Yazhi and Law Hang Leung. Ling went to the United States seeking further education after graduating from High School. Ling holds a BFA in composition from California Institute of the Arts and a MM in composition from the University of Missouri-Kansas City. Ling is currently completing his DMA in Composition at the University of Missouri-Kansas City Conservatory with a full scholarship and Graduate Teaching Assistantship position, directing the Improvisational Music/Media Performance Ensemble. Here Ling is exploring new sounds by incorporating different artistic mediums into his own music. Ling is currently studying under the composers Chen Yi, Yotam Haber, Paul Rudy and Zhou Long. Ling has also participated in master classes and private lessons held by Chaya Czernowin, Du Yun, and Amy Williams, while attending the University of Missouri-Kansas City.
Tian Xu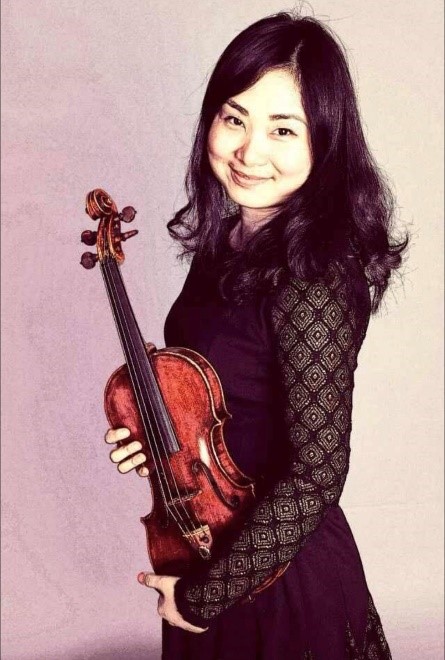 An active soloist and chamber musician, Chinese born violinist Tian Xu-Watson has given recitals in multiple countries including USA, China and Singapore. In 2020, Mrs. Xu-Watson gave a recital with the LaGrange String Trio as the principal violin in the faculty concert series at Agnes Scott University in Atlanta, GA. She also gave recitals at such venues as the Esplanade Performance Center in Singapore, Zhejiang Concert Hall and Beijing Central Conservatory Concert Hall in China,, and the Auburn Art Museum and Bill Heard Theater in the USA.
Mrs. Xu-Watson has served as concert master of various local chamber orchestras, including Trinity Presbyterian Church Chamber Orchestra, Montgomery, AL, First Methodist Church Chamber Orchestra, Montgomery, AL and First Baptist Church Chamber Orchestra, Auburn, AL. She also served as 1st violinist and leader of the Trinity Presbyterian Church String Quartet, Montgomery, AL.
Mrs. Xu-Watson played in the 1st violin section of the Columbus Symphony Orchestra (GA) and LaGrange Symphony Orchestra (LSO) between 2016 to 2022, during which she represented the LSO's String Quartet as the 1st violin at the annual 'Sit and Sip' event.
A passionate educator, Mrs. Xu-Watson began her journey into teaching in 2010. She represented CSO (GA) and LSO's Educational Program as performer and instructor with outreach programs to visiting various local schools, bringing high level music and art to younger generations.
Mrs. Xu-Watson received her bachelor's degree from Bard College (NY), and an Artist Diploma from Columbus State University. She received a Master's Degree from Eastman School of Music where she additionally won the audition for the prestigious Performer's Certificate. Mrs. Xu-Watson is currently pursuing her DMA in violin performance at UMKC under Professor Joseph Genualdi.
Mrs. Xu-Watson previously studied with Mikhail Kopelman, Sergiu Schwartz, Weigang Li and Luis Garcia-Renart.
Wan Loo Soo
Malaysian violist Wan Loo Soo began playing the violin and piano at the age of 5, later switching to the viola in 2014. The beginning of her music education started at the Music Professional Academy of Performing Arts, where she was taught by violist Tzu-Yuan Su. Wan Loo was the former principal violist of various orchestras such as the Camerata Music Professionals Orchestra, Huagang Symphony Orchestra, and Taipei Civic Symphony Orchestra, and has also participated in the Huagang Baroque Orchestra and Malaysia Philharmonic Orchestra. She won second place at the Asia Music 2014 Competition, first prize at the Cheer 2017 Taiwan International Music Competition, and has also received the Outstanding Viola Performance Award at the 2016 Singapore Raffles International Music Festival. In 2017, she was invited to perform as a soloist with the Camerata Music Professionals Orchestra in Malaysia, in Kuala Lumpur and Melaka. Later she pursued her Bachelor's degree in Viola Performance at Chinese Culture University in Taiwan, where she studied with violist Melissa Huang. In 2019, she was the winner of the Chinese Culture University Huagang Star Solo Competition. She is currently a Master's degree student at the University of Missouri-Kansas City studying viola performance with Professor Scott Lee. After completing her Master's degree, Wan Loo plans to pursue her doctoral degree in Viola Performance at the University of Missouri-Kansas, working towards a career performing as a violist, participating in chamber music collaborative work, and teaching in university school of music.
Seungchan Song
South-Korean cellist Seungchan Song is quickly building a career as a soloist and chamber musician. Seungchan has most recently appeared as a soloist representing University of Missouri-Kansas City Conservatory of Music in National League of Cities summit 2022 in Kansas City Convention Center and Kauffman Center of Performing Arts. Seungchan has held several recitals in Korea and the United State, and is a member of Project Midam in Korea, a literature-music collaborating group that seeks to find better ways to convey literature in music.
As a fervent advocator of contemporary music, Seungchan has been involved with Conservatory's contemporary ensemble, Musica Nova, and collaborated with composers and guest artists such as Chen Yi, Stefen Freund, Yazhi Guo, Yotam Haber, Hans Thomalla, and Xi Wang.
Seungchan holds a Bachelor of Music from Indiana University with higher distinction, and is currently undergoing a Master of Music degree in University of Missouri-Kansas City (UMKC) under tutelage of Michael Mermagen. Seungchan has participated in masterclasses by Zlatomir Fung and Annie Zakine-Cochet and his past teachers include Susan Moses, Astrid Schween, and Ukjin Yang.
Kansas City Chinese Classical Arts Qipao Association
Qipao [pronounced chee-pao]: a Chinese traditional fitted dress usually worn for formal occasions. The Kansas City Chinese Classical Arts Qipao Association is to promote Chinese culture and arts, enhance the cultural and ethnic diversity in Kansas City area, and improve members' self- esteem and self-confidence. Since 2012, the association has presented qipao shows, Chinese traditional attire shows,classical dances, and Chinese ink painting and calligraphy at many festival celebrations, arts and cultural fairs, and other community events. We are ready to present at your community events, company parties, or private events. Qipao and Chinese traditional dress show Chinese classical dance performance Chinese ink painting and calligraphy demonstration and teaching Tea ceremony.
KCCAA Dance Team
The KCCAA dance team, founded in 2009, is composed of a group of people who love dance and life—performing on the Spring Festival Gala stage every year with graceful dances.
Leyue Performing Arts
Kansas Leyue Performing Arts was formed by a group of Chinese amateur musicians in the Kansas City area back in 2003. The mission of the group is to enhance the culture understanding and exchange through high quality choral performance of modern and traditional Chinese music to local communities. In the past years, Leyue has performed at various cultural and music events, local and international, in Kansas City and neighboring regions (Des Moines, Iowa; St. Louis, Missouri; Chicago, Illinois), and Guangzhou and Shanghai of China.
Crescendo Conservatory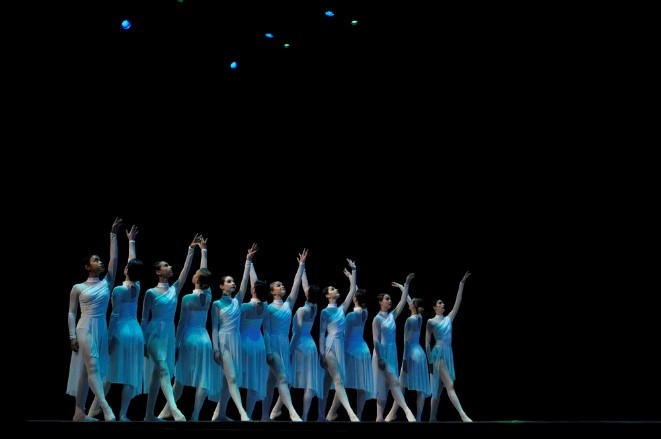 Crescendo Conservatory is a non-competitive ballet conservatory in Olathe Kansas that provides an educational environment that fosters the artistic and personal growth of its students. Crescendo dancers perform in city-wide collaborative art events including the Future Stages Festival at the Kauffman Center for Performing Arts, Kansas City Chalk and Walk Festival, The Nutcracker Tea Party and numerous other performances around our community. Crescendo Conservatory strives to preserve the beauty of dance as a performing art and offer a safe place where our students can socialize, dance, and grow as young artists.
YCKC prelude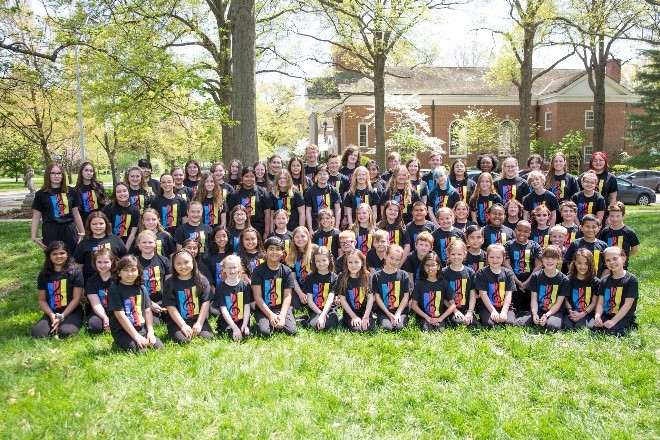 The Youth Chorus of Kansas City was founded in 2017 to provide students in grades 3-12 the opportunity to pursue excellence through outstanding performance, to grow their skills and abilities, and to become leaders in their respective schools. Weekly rehearsals are located in downtown Kansas City, to serve as a central location for students throughout the metro area.
The Prelude Choir includes singers in grades 3-6. They have performed for thousands of audience members through collaborations with NASCAR, the Kansas City Royals, the Kansas City Chiefs, and the Harlem Globetrotters, among others.
Conductor: Jana Houston
Mrs. Houston teaches choir at Hocker Grove Middle School in the Shawnee Mission School District, and has previously served at Argentine Middle School in Kansas City, Kansas. She earned a Masters in Vocal Pedagogy from the University of Kansas and a Bachelors in Music Education from the University of Missouri – Kansas City's Conservatory of Music and Dance.
Jana has been active in the Kansas City music scene, performing with the Kansas City Symphony Chorus and Te Deum Chamber choir. She has served as a vocal instructor for Shawnee Mission South's Summer Raiders Camp, teaches private lessons, and coaches barbershop with the Kansas City Chorus.
Piano Accompanist: Ria Thomas Ria Graeme Thomas is a pianist from Albuquerque, New Mexico who enjoys an active career in solo and collaborative performance. She began taking piano lessons at the age of 8, and eventually went on to study classical piano at the University of New Mexico. In 2017, Ria moved to Kansas City to continue her studies at the University of Missouri-Kansas City Conservatory, and studied with the professors Robert Weirich and Thomas Rosenkranz. During this time, her interest in accompanying flourished: she was a graduate assistant at UMKC from 2017-2020, first as the pianist for the school's choirs, then as the accompanist for graduate singers. She also frequently performed
with fellow students, chamber groups, and new music ensembles. After graduating with an Artist Certificate in 2021, Ria began work at Winnetonka High School as a full-time choral accompanist, and has continued to nurture a collaborative career in the Kansas City area.
Ria's playing has taken her around the world, including Germany, Italy, Hawaii, and Australia – most recently, in 2019 she participated in soundSCAPE New Music Festival in Cesena, Italy, where she premiered a variety of contemporary chamber works with musicians from across the globe. An active soloist, her favorite composers to perform include Franz Schubert, Olivier Messiaen, and Alexander Scriabin. She has also maintained a position as the organist at Grace Episcopal Church in Liberty, MO for the past five years.
When she's away from the keyboard, Ria enjoys watching movies with her friends, playing board games, and performing acts of service for any of the cats that live in her home.
Institute of Chinese Language and Culture (KCICLC)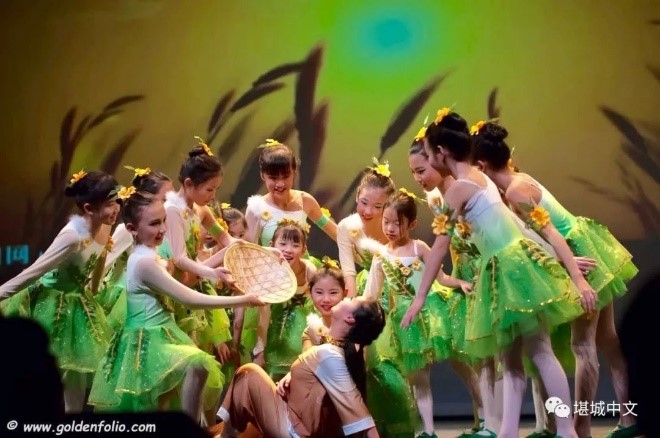 Institute of Chinese Language and Culture (KCICLC) was founded in 1998, member of The Chinese School Association in the United States and the biggest Chinese school in the greater Kansas City area. The school is a (501) (C) (3) non-profit organization with the mission to provide a superb learning environment in Chinese language and culture for the next generation of ethnic Chinese families and non-Chinese community members in the greater Kansas City area.
The Johnson County Chorus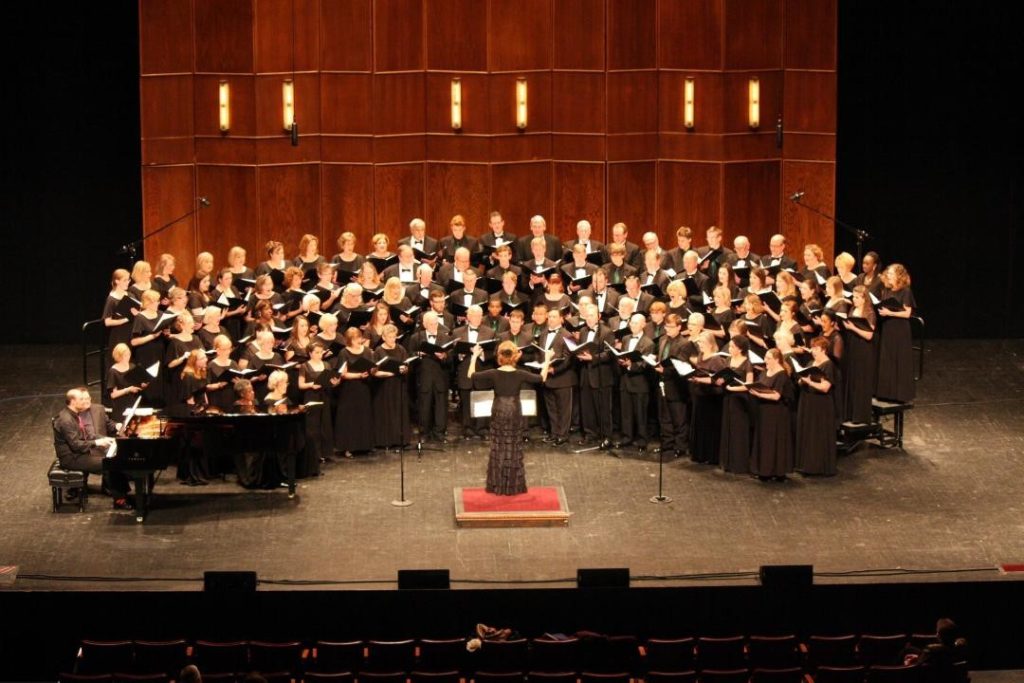 The Johnson County Chorus is celebrating its 45th year since being formed in 1978 as part of the Continuing Education Department at Johnson County Community College. Dr. Eugene Butler, a renowned composer, educator and director of choral activities at the college, assumed leadership of the chorus in 1979 and served in that role for 19 years. In 1998, Anita Cyrier became the director following Dr Butler's retirement. Anita served in that role for 20 years, retiring in 2018.
The current director of the chorus is Sheri Cook-Cunningham, PhD, joined the chorus for the fall session in 2018. In addition to her duties with the chorus she serves as an Assistant Professor and Director of Music Education at Washburn University in Topeka, Kansas. She earned her PhD in Choral Pedagogy at the University of Kansas. As an active researcher, Dr. Cook-Cunningham has presented her projects locally, regionally, nationally and internationally. Her research interest includes working with adult singers, choral war-ups, hearing dosage and hearing conservation in choral settings.
The chorus present two concerts each year in Yardley Hall, as well as singing in a variety of public and private venues. The chorus' repertoire includes masterworks as well as a broad variety of classical and contemporary choral literature. Throughout its history the chorus has been joined in concert by prominent guest composers, conductors, soloists and guest choirs from local schools and colleges.
In 2004 an ensemble from the chorus traveled to Oberammergau, Germany to perform Mozart's Requiem as part of the International Choral Festival. In 2006, the chorus toured France and Italy performing Paris as a part of the Eglise Sanit-Roch and in Rome as a featured chorus in the prestigious Roma in Canto concert series at the Basilica di San Pancrazio. Later that year the chorus joined the New England Symphonic Ensemble at Carnegie Hall in New York City. The chorus has also performed with the Windy City Choral in Chicago.