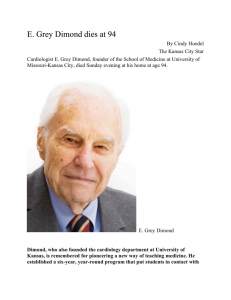 Dr. E. Grey Dimond, founder of the University of Missouri-Kansas City (UMKC) School of Medicine passed away November 3, 2013. His life was devoted to the practice of medicine, to medical education and, for the latter half of his life, to promoting friendship between his country and China.
He was a very early president, 1961-1962, of the American College of Cardiology and, at his death, the oldest surviving president.
During his military service in Japan, Dimond was sent to Shanghai to examine Americans who had been imprisoned there by the Japanese. From that experience, he made himself knowledgeable about China. In 1971, his friend, journalist Edgar Snow, arranged for Dimond and his teacher, Paul Dudley White, to visit China. The two men were the first American physicians in China in twenty-two years. Dimond made the re-establishment of friendly relations between the two countries a prime duty. In his life, he made forty trips to Asia, hosted numerous American groups on visits to China, brought many students from China to UMKC, and, capping all this, he and his wife adopted a Chinese daughter in 1980.
The prominent international correspondent for the New York Times, Harrison Salisbury, wrote in 1988, 'Grey Dimond's energy, imagination and dedication to public and professional welfare are unique in my experience. No one whom I know has done as much single-handed for the betterment of Chinese-American relations and that is only one of his many preoccupations.'
Dr. Dimond's father was from a prominent Mississippi family. The couple was visiting and Christmas shopping in St. Louis, his mother's home city, when she went into labor. Grey was born on his mother's birthday, December 8, 1918, and the family returned to Terre Haute, Indiana five days after his birth. During testimony in Jefferson City, Missouri, attempting to get funding for the new medical school, one of the legislators challenged Dimond as to why a Mississippi native was asking for Missouri money. The reply: "I was born in St. Louis and my mother's family came to Missouri in 1815, before it became a State. When did your family come?" The legislator choked, then recovered with a laugh, and said, 'You win! My father came here from Italy!' Dimond did not volunteer that he had lived in St. Louis only the first five days of his life.
As a youth, Dimond enjoyed sports, lettered in high school in football and track …